Hello my witchy friends! Welcome to my book of magic! *glittersound*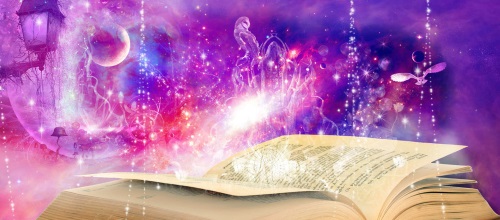 I'm not good at constancy and haven't been able to keep one super great Book of Shadows yet. Instead I have many little books, and my notes are all over the place. I guess I'm a chaotic witch... though I don't know if that makes me a chaos witch, too.
So I thought to myself don't try and set up a complete book full of wisdom. Don't even try. Instead, set up a project and give yourself a deadline. This works more often than it doesn't.
So here I am!
My Project Number One: Magical Housekeeping!
Because life isn't hard enough and housekeeping is so much fun I decided to add even more work! Good decision..? We'll see. But the thought of magical houskeeping is always there, like, I want it that way, it would be fun, and magical, and make my apartment feel more like home, and provide me with all I need, and it will be easy and fun to keep up the magic, and life will be magically better when I do it that way!
So much for my expectations. Sadly, I also think that this is all nonesense and what good would it do, really, it wouldn't change anything and I'd just be exhausted, disappointed and will have no clue anymore as to how I could improve my life so I prefer to only think about magical housekeeping.
But now! With the help of EUTM I want to try it! *drum rolls*
Here goes.
My main blocks are:
- I don't think that anything will change just because I chant or whatever
- too lazy to recharge (or clean) things regularly
- I
never
know where to start, that's why I'm pretty inactive although I'm reading up on this topic for literally years
- underlying believe that I'm not 'good enough' to get a nice home thus I'm sabotaging all my efforts
Oh my, I guess I need to work on that nasty last believe, too.
First steps could be:
- research magical housekeeping (right now I have 4 books on this lying next to me, I think I'm good?)
- cleansing, blessing... but what?
- then what? and how?
- ask household spirits for inspiration and guidance, like Gods but also the spirits of the apartment and rooms
My fears:
- will I have to clean the kitchen from bottom to top every day? Is it all about keeping dirt away? Because I like dirt. Really, I do. Well, okay, it doesn't bother me much. Only a bit but the price to pay to keep things clean is very high. I mean I have things to do. And then I need rest. Okay? So.... please can it work without effort?
- what if my life will actually change, what then? AUAUAGGAG I HATE CHANGE
I have already managed and am proud of:
- put some order into my wardrobe
- uh...... uhm.... nothing else?
Alright, it's gotten late and I'm tired so I'll be back tomorrow. Idk if someone will be reading this but I'll write as if...so... yeah. Good night my dear friends.